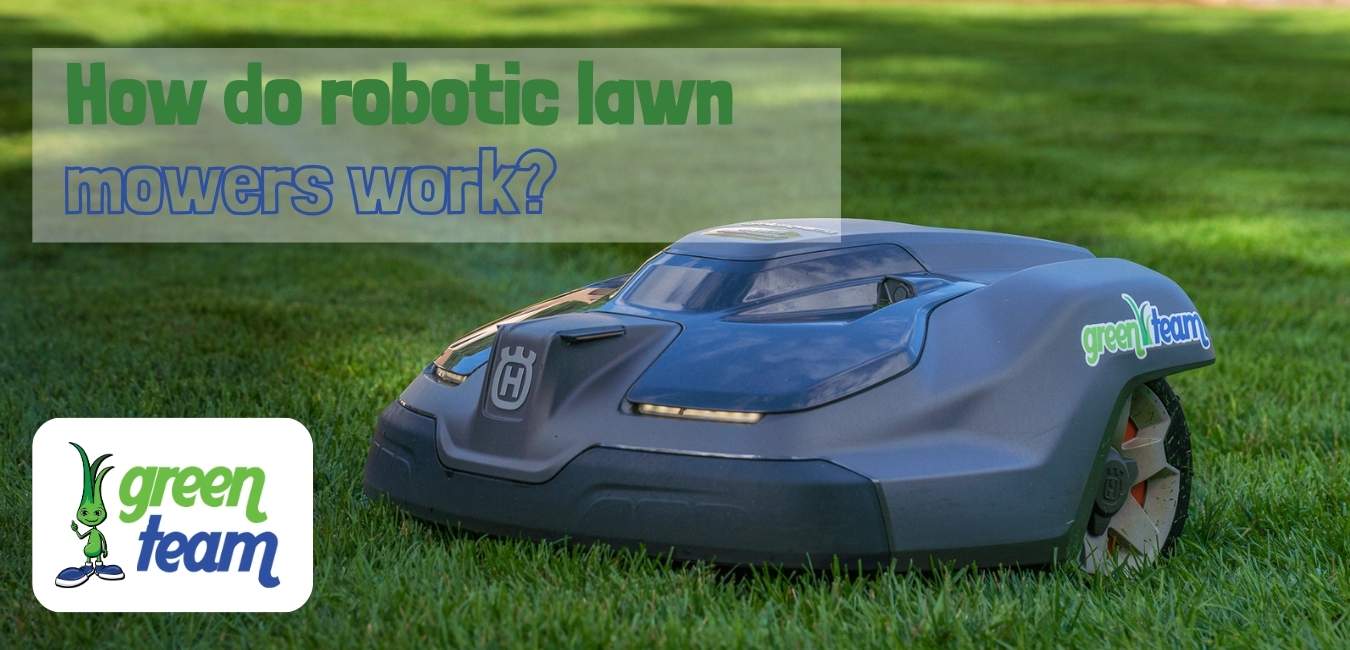 How Do Robotic Lawn Mowers Work?
Does the idea of a robot mowing your lawn seem like something out of a science fiction movie? While maintaining a well-manicured lawn can be a source of pride for homeowners and business owners alike, it can also be a daunting task that eats up both time and energy.
Thankfully, with technological advancements speeding the Green Industry forward, robotic lawn mowers are not only real, but they are an extremely effective lawn care solution for both homeowners and businesses.
If you are anything like us, you might be wondering how these little machines work and if they measure up to traditional lawn mowing. Let's explore how robotic lawn mowers, specifically Husqvarna Automowers®, actually work day-to-day so you can decide if a robot mower is a good option for lawn maintenance at your home or business.
How Robotic Lawn Mowers Work
Robotic lawn mowers, including the acclaimed Husqvarna Automowers®, are a marvel of engineering. These autonomous machines operate on a set of sensors, software, and cutting-edge technology. Let's break down how they work:
1. Mapping Your Lawn: Before the robotic mower embarks on its mowing journey, it needs to map your lawn. This is usually done through boundary wires or by learning the perimeter through sensors. These boundary markers help the mower know where it should and shouldn't go.
Using your Automower® Connect App located on your smartphone, you can build, change, and customize a map tailored to your outdoor area with some models. Specific zones can be set so that grass is mowed longer or shorter to your preference for that specific area.
If you choose to partner with Green Team, our installation experts handle this entire process during installation.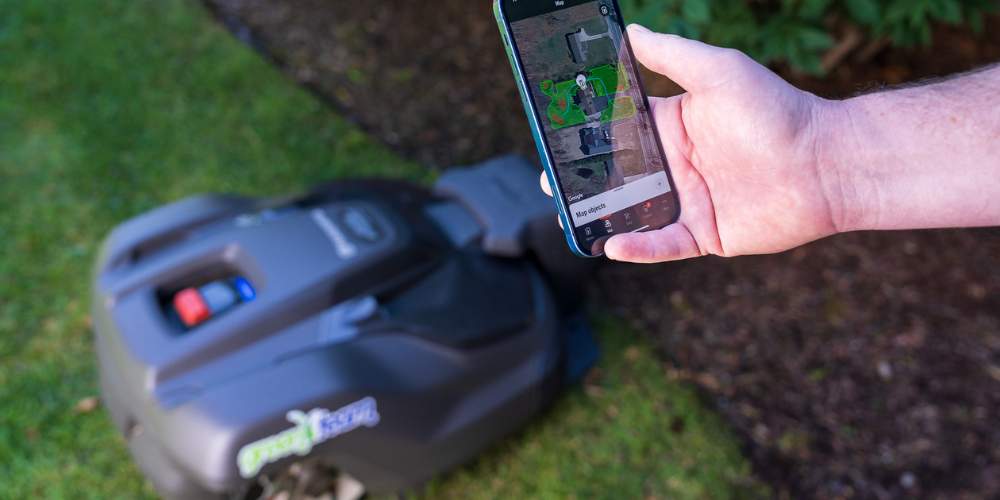 2. Mowing Patterns: Unlike older versions of robotic mowers that cut the lawn in a random path, robotic mowers operate in a systematic, grid-like pattern. Each area of your lawn is mowed at the appropriate time and your lawn is left with mow lines, just like it was mowed by professionals. Using their memory storage, the mower knows which areas they have already mowed or recently mowed. The mower then uses this knowledge to optimize its patterns for efficient coverage. This approach not only keeps your grass looking pristine but also helps maintain the lawn's health by mulching the clippings into fine pieces.
3. Navigation Sensors: Robotic lawn mowers come equipped with a variety of sensors, such as ultrasonic, infrared, and collision detection sensors. These sensors enable the mower to detect obstacles and then navigate around them This helps to ensure safety for both the machine and your garden.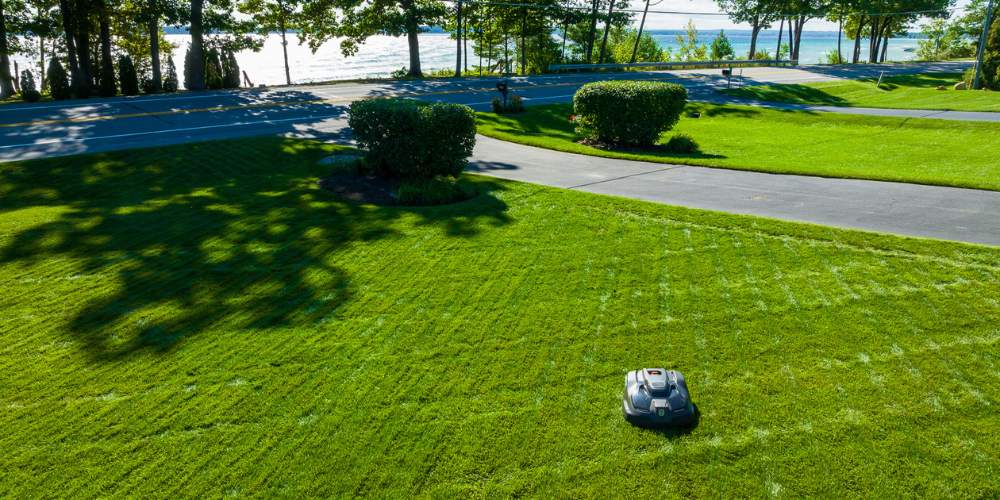 How Often Do Husqvarna Automowers® Mow?
One of the many advantages of robotic lawn mowers is their ability to mow frequently. Traditional mowing might mean cutting your grass every week, which can put stress on the lawn and lead to uneven growth. Robotic mowers, on the other hand, can be set to mow as often as necessary. The frequency can vary depending on factors like the growth rate of your grass, weather conditions, and your personal preferences. After your mower has cut for an extended amount of time, it will return to its charging pad automatically and take a break to charge the battery for the next mow.
Typically, the Automower® will mow your grass everyday. The robot leaves its station and drives to an area it knows needs to be cut. It then begins mowing in its grid pattern. Since such a small amount of grass is being trimmed off the top, your robotic lawn mower will cut grass even in the rainy weather.
If you have an event or the kids are out playing in the yard, the Husqvarna Automower® also features a manual start and stop option. Simply open your app and tell the mower to stop mowing. It will then return back to its docking station.
Frequent mowing has several benefits:
It promotes a healthier, thicker lawn.
Grass clippings are finely mulched and returned to the soil, providing natural fertilization.
The lawn appears well-manicured at all times.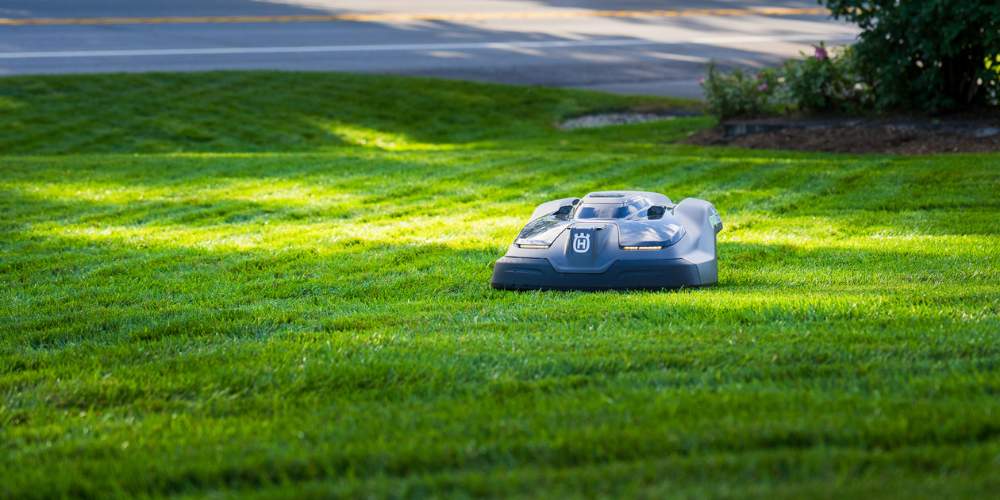 Deciding if a Husqvarna Automower® is Right for Your Property
Robotic lawn mowers, especially the Husqvarna Automowers, represent a modern solution to an age-old chore. They operate with precision and efficiency, ensuring that your lawn stays immaculate without you having to break a sweat. These remarkable machines are capable of navigating your lawn with ease, following a systematic pattern, and adapting to your lawn's unique characteristics.
Once your robotic lawn mower is installed, there is really very little left for you to do. We recommend monthly cleanings as well as changing the blades every few months. During the winter months, your Automower® should be brought inside and put on its charging station.
If a robotic mower sounds like it might be a good option for you, but the installation and maintenance sound a bit overwhelming, Green Team is ready to help. We offer the following optional services with your Husqvarna Automower® so that you can pick and choose where you need support.
Robotic Mower Sales—Simply purchase the model you would like!
Installation and Set-Up—After you purchase your Automower®, our team comes and sets up the entire system at your property. If you have any questions throughout the season, our experts are on call to help.
Mower Maintenance—Not sure how to change the mower blades? Include the maintenance package with your mower. We will clean, service, and store your mower for you.
Leveled Up Lawn Care—We also offer packages like fertilization or line trimming along with the above items to help your lawn thrive.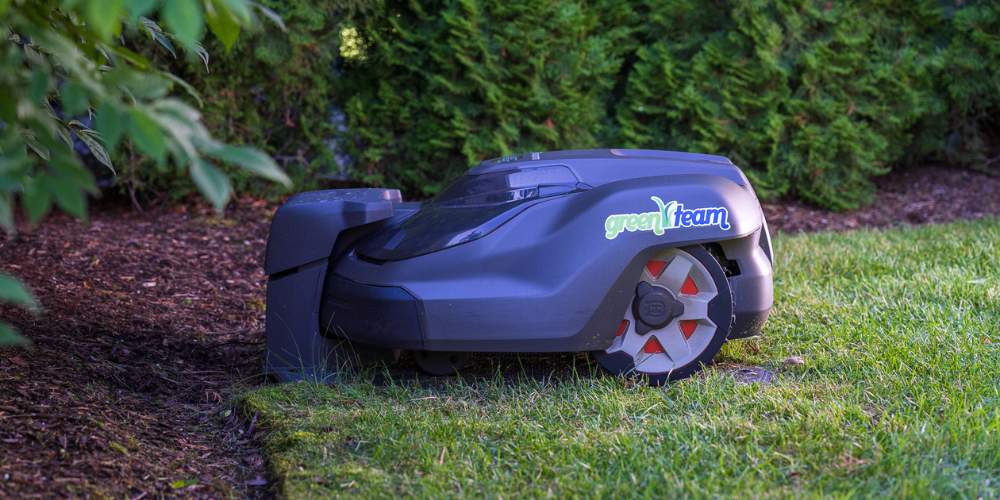 With the ability to mow frequently, adjust to changing weather conditions, and run autonomously, robotic mowers offer you more leisure time to relax. If you're looking to reclaim your weekends, help protect the environment, and have the best-looking lawn on the block, the Husqvarna Automower® might be a great fit for your home or business.
Are you ready to give the Husqvarna Automower® a try? Call in the Green Team to discuss what mower and plan might be best for you. Fill out our contact form or give us a call today!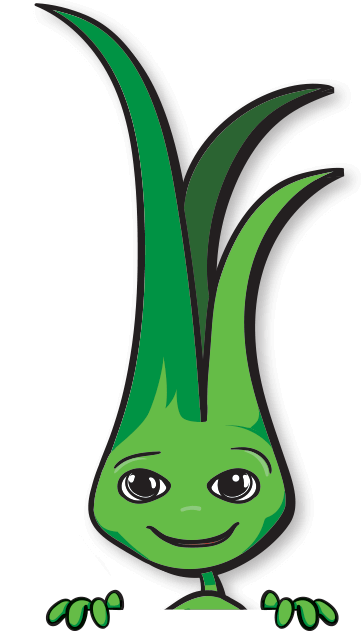 Stay in "the know"! Sign up for our free quarterly newsletter to learn tips & tricks for maintaining the perfect yard.
We take your personal information very seriously. We will not share any of the information you provide with any 3rd parties. Provided information will be used specifically to contact you in regards to your inquiry.
– 1 –
Give us a call or get started by filling out our contact form
– 2 –
Talk with one of our professionals about a plan that works best for you
– 3 –
Sit back and relax. The Green Team will come out swinging